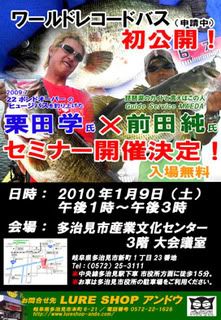 I'll open a stuffing of 22lb bass to the public first with
Pro guide Mr. Maeda
and we'll do the talk show by sponsoring
"Lure shop Andou"
at 1:00PM, January 9th 2010!
You might be able to take the photograph with the stuffing of 22 bass.
When pro guide Mr.Maeda took the photograph with this, he did mimicry that seemed to be heavy. LOL
It becomes it in this way about Mr. Yokoi's daughter.
I want children as a lot as possible to see this.
Please come & joy us!!